STRIIV FITNESS GAMES APP – 2013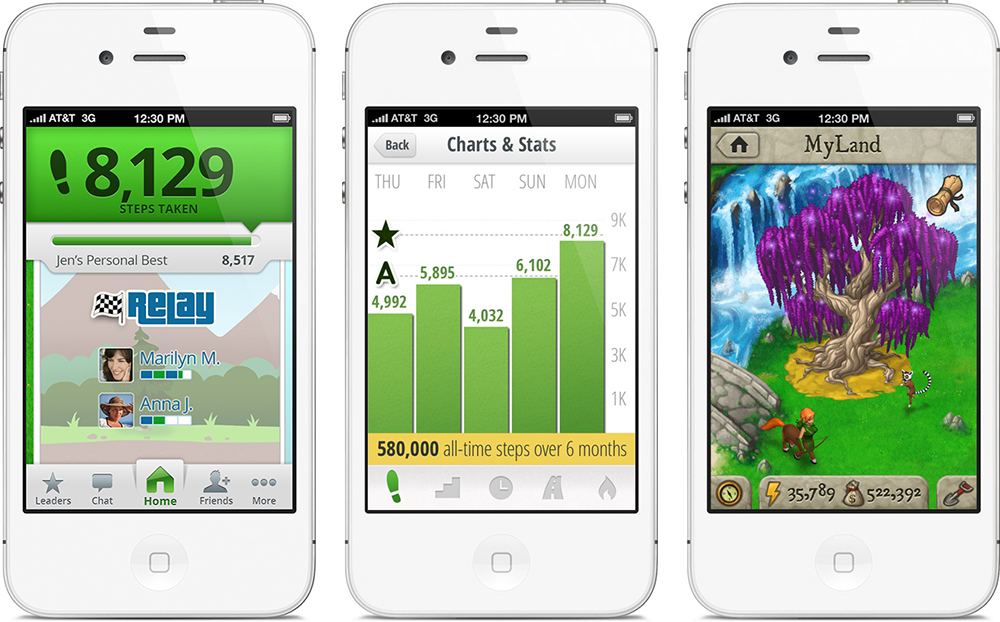 Project
Striiv's mission is to get couch potatoes up and moving with an interactive experience based around movement. Like our competitors, our app has a built-in pedometer that measures your movement. However, unlike our competitors that focus on the "quantified self," our approach is very different. Instead of just awarding badges for achieving fitness goals—which we also do—we want our customers to get immersed in the games and challenges and forget they're exercising. The Striiv Fitness Games iPhone app is a virtual amusement park powered by walking: challenges, games, friend leader boards, and walkathons—all designed to get people to move more.
One example is the MyLand game, shown in the third screenshot above. It's modeled after the social games that are incredibly popular on Facebook and iOS, so the gameplay is familiar: buy plants and buildings and grow them to populate your island, collect coins, and unlock new regions of the MyLand island to plant. But there's one key difference: Everything is grown or built with Striiv energy, which can only be earned by walking. Striiv now has over 100K users, with engagement and retention numbers that are significantly higher than average fitness apps or games. Now available in the iOS App Store.
Role
Creation of all features and game concepts as 1/3 of a wildly creative product team. All UX & UI from concept mocks to shipping product. Recruitment, art direction, and management of creative resources including visual designers and game artists. Asset creation as needed.
STRIIV PLAY FITNESS TRACKER – 2012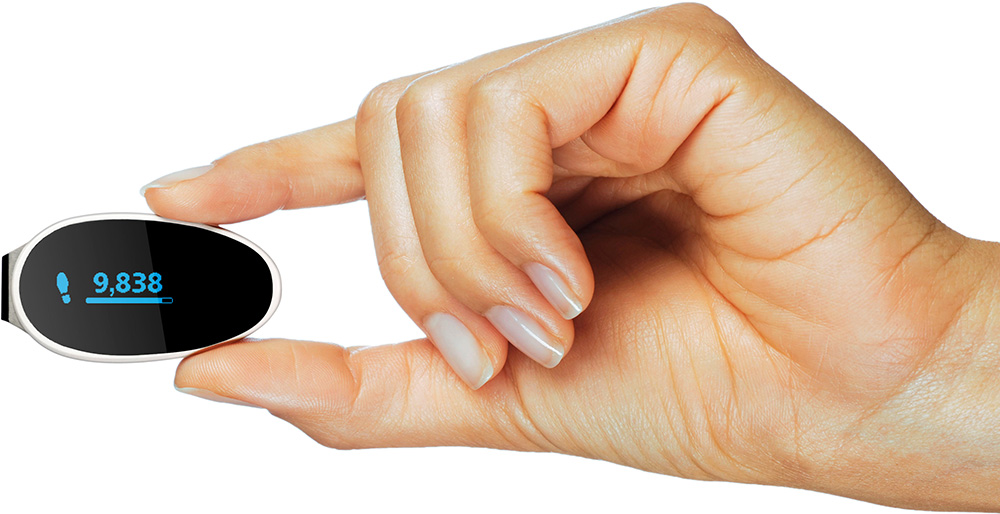 Project
Striiv started out as a hardware/software company, but this was the first product designed specifically to work with our mobile app. Not all of our customers carry a phone with them all day, so the Striiv Play was designed to offer the convenience of a smaller form factor for step counting. The Play also improved phone battery life by taking over the step count processing, and added the ability to count stair steps with a built-in altimeter—a sensor not available on the current iPhone hardware. Because of the approaching holiday season and retailer stocking requirements, development proceeded at a world record pace: The company went from "let's do this" to a finished product on shelves in 4.5 months, which required that the hardware be completed and ready to manufacture in well under 3 months. Now available at Amazon and Best Buy.
Role
Initial hardware concept. Recruitment, direction, and management of industrial design resources. Heavy collaboration with engineering and mechanical design resources to resolve component stackup, form factor, and device operation challenges. All UX, UI, and asset creation for the embedded system on a 32×128 OLED display.
STRIIV ANDROID APP CONCEPT – 2013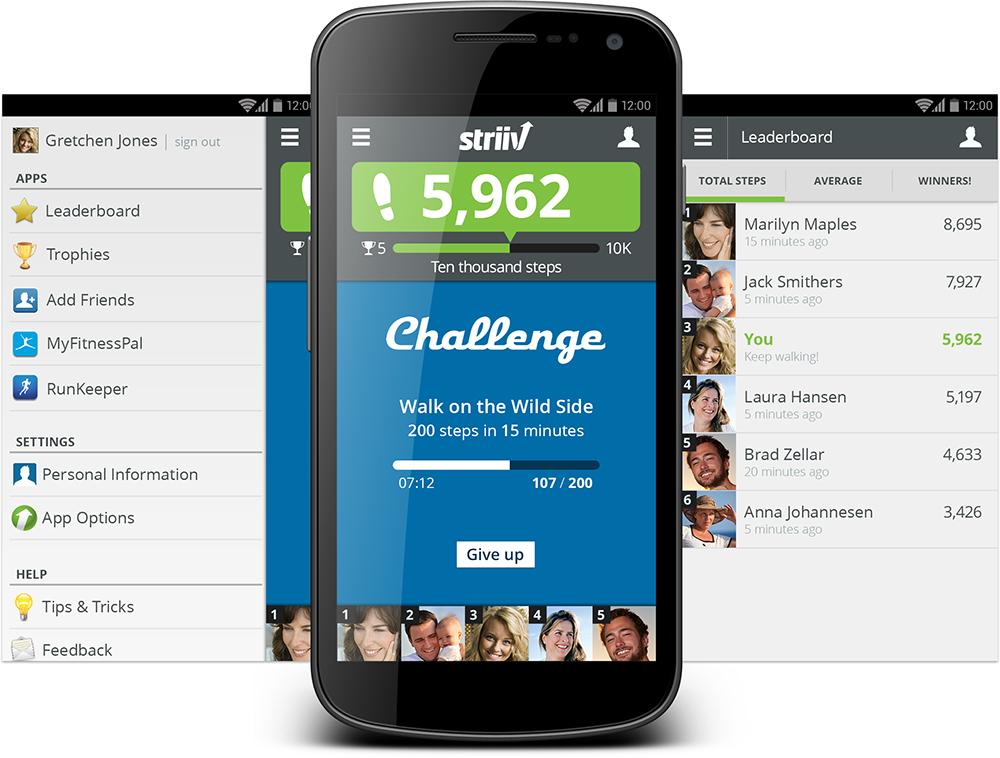 Project
This was a quick Android app concept that explored how we could bring the Striiv experience to Android. The goal was to design a Android-native Striiv app by leveraging stock Android-specific navigation and design patterns, along with a Holo theme and flatter visual design. The Striiv Android app is currently in development.
Role
All design.
COOLIRIS TWIN TABLET CONCEPT – 2010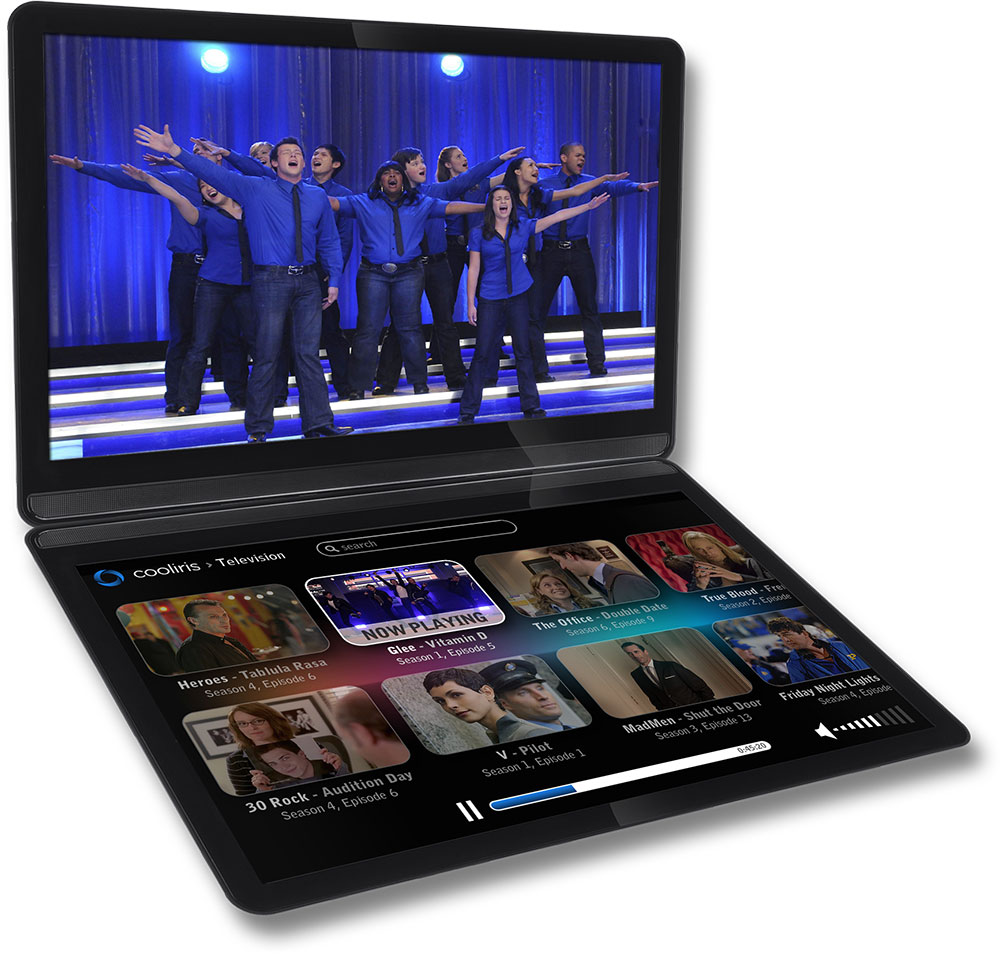 Project
This was a one-day concept design project done for the Cooliris business development team. They were prepping for a meeting with a large hardware manufacturer thinking about building a dual-touchscreen tablet, and the biz dev guys wanted to show how Cooliris might fit on such a platform. This was fun. Channels were changed by tapping on a tile on the lower navigation screen, as you'd expect. Picture-in-picture was initiated by flicking a tile from the lower navigation screen towards the upper  display screen. A picture-in-picture tile on the upper screen could be made primary with a tap, or removed with a swipe down to the navigation screen. Sports junkies who like to watch five games at a time would have loved this. A partnership never materialized, so nothing came of this project other than an enjoyable day of work.
Role
Solo project.
COOLIRIS IMAGE BROWSER – 2009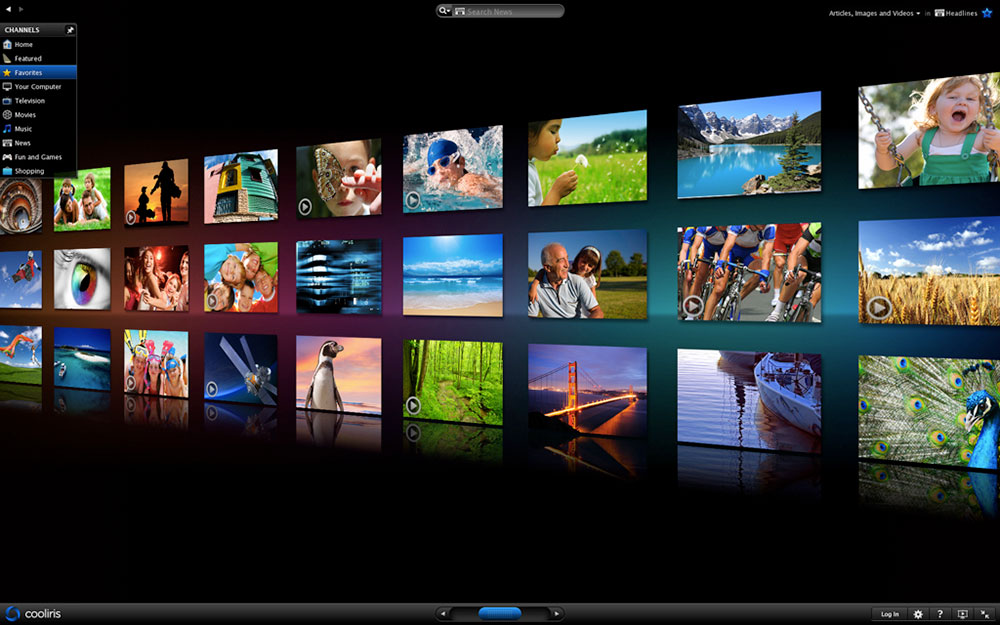 Project
The Cooliris photo wall browser plug-in was a project I directed through multiple versions. We clarified navigational elements, reorganized menus, refined the visual design, improved the detail screens, and more. As the flagship product, the work we did on the photo wall informed projects across the company.
Role
UX & UI. Direction of UI and Visual designers.
CHALLENGE.GOV ELECTRONIC MEDICAL RECORD – 2012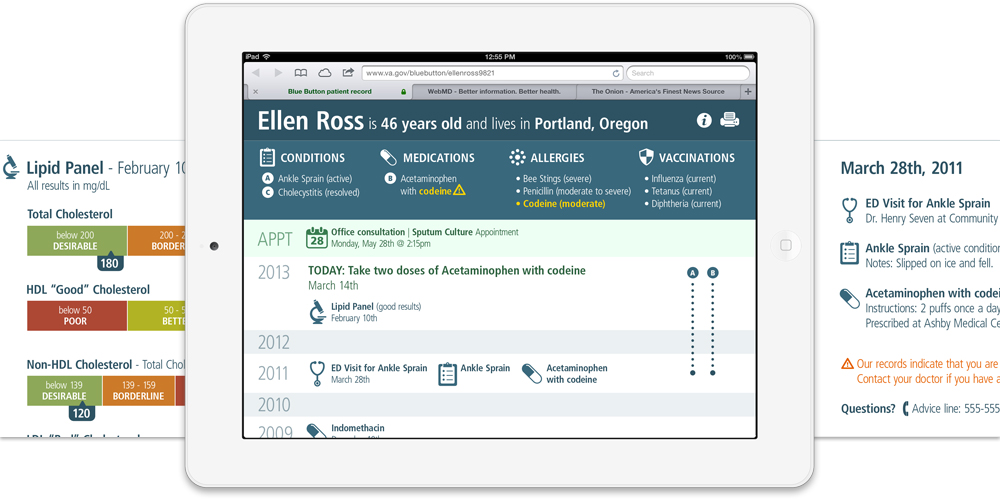 Project
The White House and the Veterans Administration held a competition on Challenge.gov to redesign the all-text, undifferentiated data dump that is the VA's Blue Button electronic health record. Unfortunately, I only heard about the challenge one week before the deadline, and that week was already booked pretty solid. I like this sort of thing, though, so I scraped together a handful of hours and whipped up a design that landed in their Design Showcase as an entry that "inspired the judges and challenged the status quo."
Role
Weekend warrior.
ZONK DEXY NOTES APP – 2008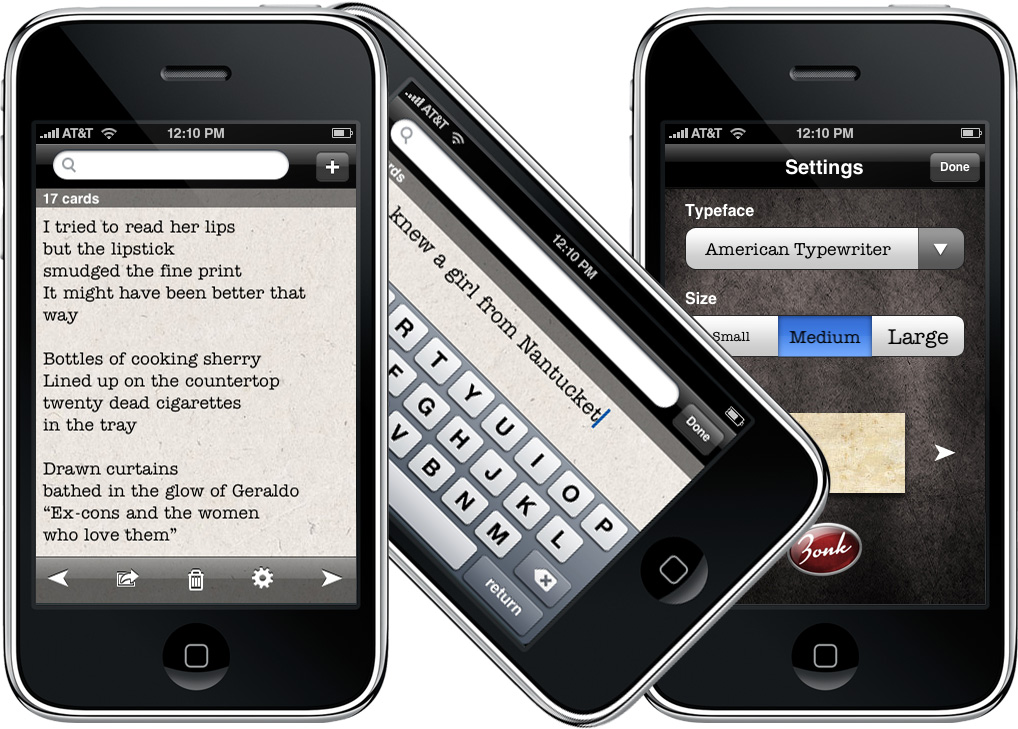 Project
Dexy was one of the first 5,000 apps in the App Store. A free-form note-taking app built for convenience & speed, Dexy was loosely based on the old-school Mac app QuickDex. Typing any word in the search field filtered your stack of "cards" down to the ones that contained that word. Note-taking and recall were easy & immediate, benefitting from features uncommon for the time such as landscape typing.
Role
UX, UI, some visual design. Project management of visual designer and engineers. Product testing, etc.
PERSONAL PROJECT: FLOATING LOFT – 1998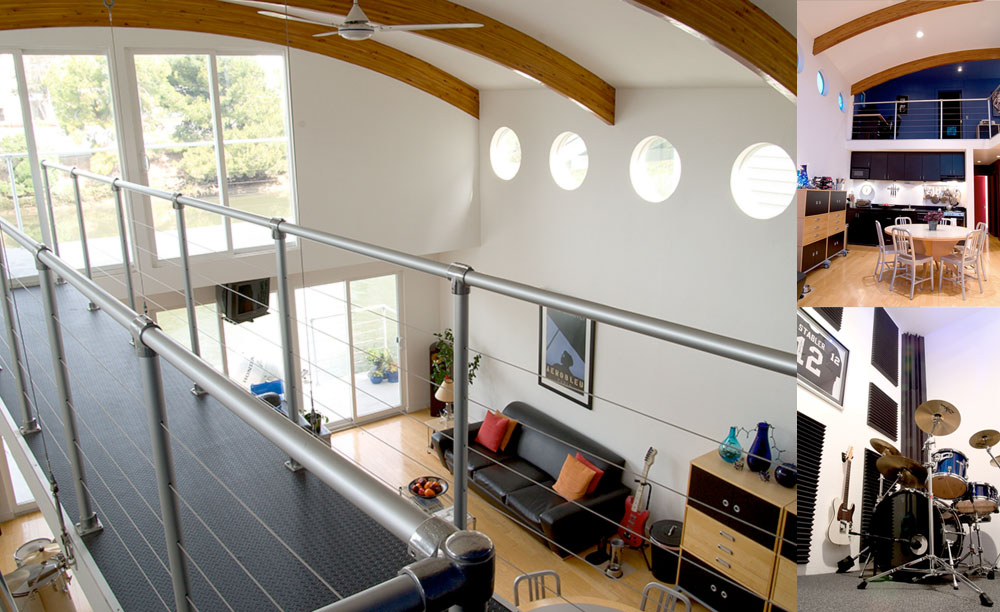 Project
I designed & built my first house, a loft-style floating home. The 1,200 sq. ft. house was built on a 40'x20'x6′ concrete barge hull and floated on the bay in Redwood City. It had a spacious main room with a 17′ ceiling and catwalk, as well as a dedicated, soundproof recording studio on the lower level. The house was featured on an episode HGTV's "Small Space, Big Style." I lived there for 10 years, making all kinds of loud noises in the studio. It's now moored somewhere in Sausalito.
Role
In this case, "I designed & built" means I did 85% of the design & floor plan; 15% was done by a licensed architect who produced 100% of the blueprints. I hammered, wired, plumbed, and painted my way through 5-10% of the actual construction, while the rest was built by qualified contractors who were too polite to suggest that I keep my day job.
OTHER PROJECTS
Consumer | Entertainment | Business | Broadcast | Healthcare | Enterprise
In-Flight Entertainment System – Sony Transcom
Optical Scanner Software – Logitech
Office of the Future Concepts – 3M
Label Maker Application – Dymo
Electronic Wall Street Journal – Dow Jones
Incident Review Station – DriveCam
Satellite TV Concepts – Echostar/DishTV
Broadcast Management System – Terayon/Motorola
Blood Glucose Meter – Abbott Labs
Infusion Pump System – Alaris Medical Systems
Motiva TeleHealth System – Philips
Corporate Site Redesign – BMC
Small Business Product Selector Widget – Microsoft
…and many more.